News Archive: What's happening and what has happened in the lab.
April 2023: Scottish Vision Group Conference 2023
Abertay will host the SVG 2023 conference. It's being organised by Becky Sharman and George Lovell.


September 2019: New paper on camouflage
We have a new paper out in iPerception, in this paper Becky Sharman and I explore how disruptive camouflage (particularly edge enhanced disruptive camouflage) interferes with shape perception. We find that participants' judgements of the shape of the stimulus worsen as camouflage is applied. This happens even when the object they are detecting is presented against a uniform background - i.e. it isn't what we'd conventionally call camouflaged. This illustrates how camouflage may not be solely involved in concealment and may also have a role in making object harder to identify.
August 2019: ECVP poster on Dazzle Camouflage
We will be presenting a poster at ECVP 2019 in Leuven summarising our recent work establishing whether dazzle camouflage couuld actually have been successful in protecting ships from torpedo attack during the first world war. You can download the poster by clicking this LINK.
Dazzle camouflage can cause a misperception of ship direction that could cause torpedoes to miss their targets. P. George Lovell, Rebecca J. Sharman, Andrew Brown, Tim S. Meese. Presented at ECVP 2019 (Leuven).
July 2019: PhD funding for a project investigating camouflage using Virtual Reality
While research has begun to unpack how camouflage works, there are many gaps in our understanding. For example, in disruptive camouflage the false edges within the pattern do not attempt to exactly match the background, yet they aid concealment. We will use psychophysics and Virtual Reality (VR) to objectively measure the component visual features of camouflage in different contexts. The research will improve our understanding of both natural camouflage and the human visual system. You will be supervised by Drs George Lovell, Rebecca Sharman and Ken Scott-Brown.
The PhD studentship provides a package valued at around £75,000. This includes a fully-funded tax-free stipend of £15,009 per year over three years, tuition fees, and a travel and equipment budget. You will be expected to undertake limited teaching duties of no more than 70 hours per year. We believe teaching and the associated training is an important part of academic career development.
• Job reference: REQ000338
• Application closing date: 2nd August 2019
April 2018: New paper on disruptive colouration and how it can slow identification.
It has long been accepted that disruptive colouration has a huge role in camouflage. It has also been speculated to interfere with identification. However this has never been established experimentally. Here we use an experimental paradigm where participants are shown stimuli briefly and they have to indicate both where the target is and what it is. Some targets where presented upon backgrounds against which they were camouflaged and others were presented on a background that didn't camouflage the targets as well. When we varied the speed of the presentation we found that localising the target became easier upon the contrasting background, there was no difference for the camouflage types we included. However, identification of the target needed more time for the disruptive edge-enhanced targets, even when localisation was no different from the uniformly coloured control. This study was a final year undergraduate dissertation project conducted by psychology undergraduate Stephen Moncrieff, supervised by George Lovell. The experiment was designed by George Lovell, Stephen Moncrieff and Rebecca Sharman.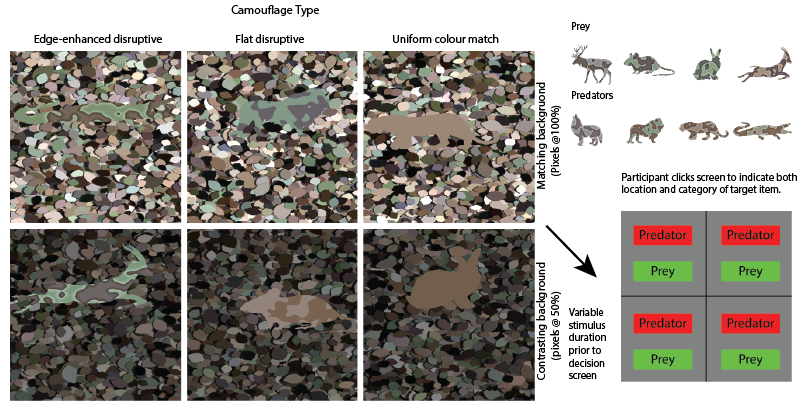 The full paper is available at Nature Scientific Reports Direct Link to Paper
Teaching Pack for Camouflage and Warning Colouration
I've developed a new teaching pack with my colleague Dr Janet Mclean on camouflage and warning colouration. The pack includes a set of camouflage patterns for various environments (summer, autumn, urban) and warning colouration texture is also included. The aim is to educate students about the role that colouration and texture plays in hiding animals or in making them conspicuous. By cutting out targets from the various textures and hiding them in different environments children and teachers can design simple bug-hunting experiments. The activities are designed to feed into topics of science, biology, health and wellbeing. Another intention is to educate children about the value of bright contrasting colouration when cycling and walking. The pack can be downloaded by using this link: http://bit.ly/2omxBGd.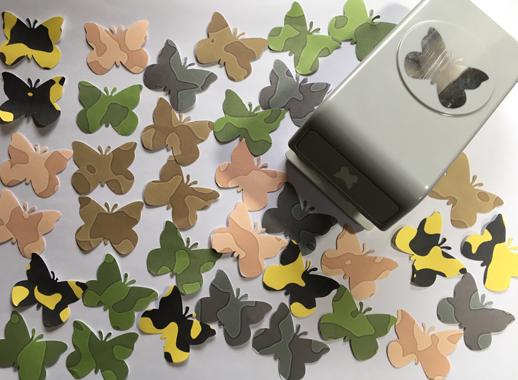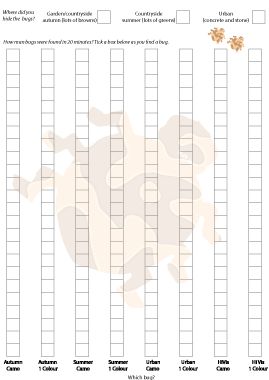 New paper on edge enhancement and disruptive colouration.
December 2016 - New Paper in Scientific Reports. This paper reports the results of our study exploring edge enhanced disruptive camouflage. In short, edge enhanced camouflage appears to be much more effective than simple 2 toned disruptive colouration. Targets take longer to detect regardless of whether the edge enhancement results in a better visual match to the background. The underlying mechanism seems to be the manner in which edge enhancement results in the viewer seeing the different camouflage patches as items seperated in depth.
New paper on countershading and weather conditions
November 2016 - New Paper in PNAS! Field studies with carefully calibrated countershaded camouflage demonstrate that having countershading that matches your light environment (or weather) results in better survival rates. Here's a press release @Bristol and the same one @Abertay.
New grant to begin in April 2016!
We've been given funding for a new grant which will use hyperspectral imaging to look at aposematic colouration in insects.
PI - Julie Harris (St Andrews) total value £591k. Details @BBSRC